popular questions
If you cannot find an answer here, please let us know, and we will get back to you soon.
We ship your package from 2-4 business days within Canada. We will email you a tracking number after your order is shipped.
A signature is required upon delivery of any package for your protection.
Business days are Monday-Friday, excluding Canadian holidays.
FMO/CFPO and P.O. Boxes may only be shipped via Canada Post and will require additional time for delivery.
Purchase with our 14-day guaranteed, money back refund policy.
If for any reason you are not happy with your purchase you can return it for a full refund, store credit or exchange.
For online purchases, merchandise must be returned within 14 days from date received. Clearance items are exchange only. Returns must be shipped via insured post or courier.
Jewellery must be in good condition with all original packaging and accessories.
Charge credits are issued to the original purchaser on the account to which the item was charged.
Please email office@styleatmosphere.com before returning items, to receive the address of our return facility. Returns will not be processed for any unauthorized, improperly packaged, or non-insured packages and will be returned to sender. Items that have been damaged in any way cannot be accepted for return.
The original shipping charge is non-refundable and the customer must pay return shipping.
In the event of an exchange, your original order must be returned, received and validated at our office prior to your replacement order being shipped.
For additional information please email office@styleatmosphere.com
We offer free returns within Canada. Refunds from countries other than Canada are subject to shipping fees.
To purchase a gift card, please get in touch with us at office@styleatmosphere.com
Our promo codes have expiration dates depending on the campaign.
More About The Shop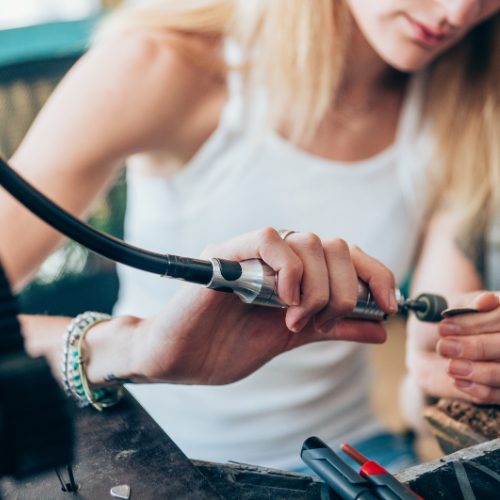 Our workshop is in BC Canada, and we sell our products online only.
We make sure that the jewellery you purchase is beautifully packed.
Please send us an email, and we get back to you as soon as possible.
We ship internationally, but the shipping is subject to shipping fees.
Our jewellery is unique, but we can create a similar piece on special order.
Subscribe to our newsletter to receive our news and promotions.
In Canada, we ship with Canada Post. On your request, we can price quote shipping with other couriers.
In Canada, the delivery time is 4-7 business days. The estimated delivery time for other countries may vary, depending on their shipping providers.