How do you choose the perfect chain length?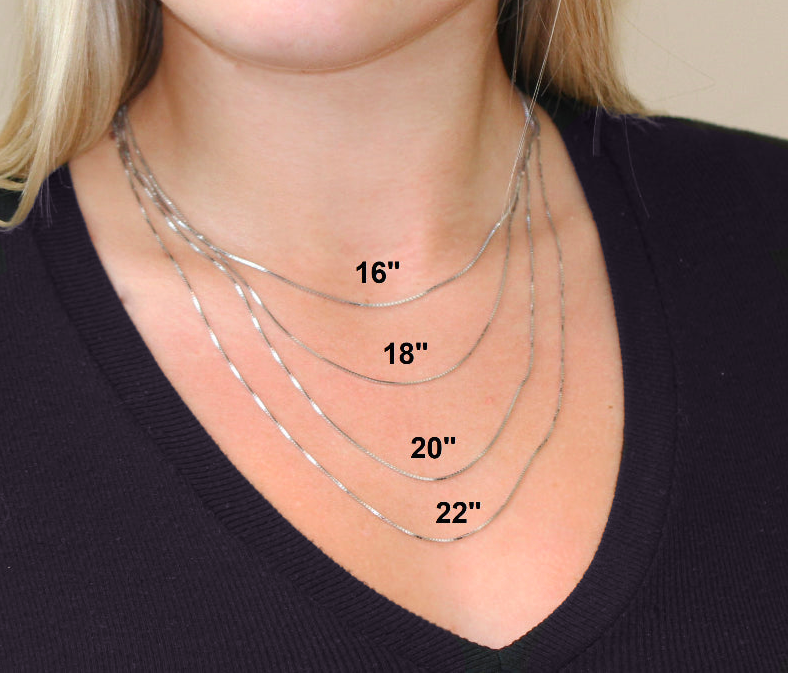 Choosing the perfect length for a chain or a necklace is a subjective decision that depends on various factors such as personal style, body proportions, and the desired look. While there is no hard and fast rule, understanding these factors can help you make an informed decision and find the ideal length that complements your appearance and enhances your overall aesthetic.
To select a perfect chain, consider your personal style.
One crucial consideration when selecting a length is personal style. Different necklace lengths can convey different vibes and suit diverse fashion preferences. For instance, a short necklace such as a choker or a collar-length necklace can create a bold and edgy look, ideal for those seeking to make a statement or emphasize their neckline. On the other hand, longer necklaces like a matinee or opera length can exude an elegant and sophisticated appeal, perfect for formal occasions or adding a touch of glamour to an outfit. By considering your personal style and the desired aesthetic, you will be better equipped to choose a necklace length that aligns with your fashion sensibilities.
Think about the body type before choosing a chain's length.
Another significant aspect to take into account is body proportions. Different necklace lengths can visually alter the perception of one's body shape and lengthen or shorten the neck and torso. For individuals with a shorter neck or a petite frame, longer necklaces can create an elongating effect and provide the illusion of a taller, more balanced figure. Princess and matinee lengths are generally recommended for those with petite frames. Conversely, individuals with longer necks or broader shoulders might opt for shorter necklaces to create a more proportional look and draw attention to their facial features. By understanding how different necklace lengths interact with your body proportions, you can choose a length that flatters your physique and creates a harmonious appearance.
The necklace's length should complement the neckline.
The neckline of the garments you frequently wear should be considered when selecting necklace length. The length should ideally complement the neckline and not compete with it. For instance, shorter necklaces like chokers or princess length necklaces pair well with boat neck or off-the-shoulder tops, whereas longer necklaces like matinee or opera length are better suited for scoop neck or v-neck tops. You can achieve a more cohesive and balanced look by harmonizing the necklace length and neckline.
Choosing the perfect length for a necklace or a chain is a personal decision that requires considering factors such as personal style, body proportions, and the neckline of garments worn. By understanding how different necklace lengths interact with these factors, you can make an informed decision and select a necklace length that complements your appearance. Remember that choosing jewelry is an expression of one's individuality and style, and there are no set rules. Allow your personal taste and intuition to guide you in finding the perfect necklace length that makes you feel confident and enhances your overall look.
What lenght is a popular choice on the market?
When it comes to chains, there is a wide array of lengths available on the market to suit different styles and preferences. From delicate and short chains to bold and long ones, shoppers can find the perfect length to complement their outfits or showcase their individuality.
One of the most popular lengths is the 18-inch chain. This length is often referred to as the "princess length" and is known for its versatility. The 18-inch sits delicately on the collarbone and can elegantly hold pendants or be worn on its own. It is a classic choice that suits a variety of necklines and occasions.
For those who prefer a longer option, the 24-inch length is a popular option. This length falls just above the bust and adds an effortlessly chic touch to any ensemble. It can be worn alone or layered with shorter one for a trendy look. The 24-inch is often chosen by individuals who prefer a bolder and more dramatic statement.
On the other end of the spectrum, there are also shorter gold chains available. The 16-inch, known as the "choker length," has gained popularity in recent years. This length hugs the neck tightly, adding a fashionable and edgy element to casual and formal attire alike. The longer 20-inch and 22-inch are also available, providing options for everoone.
The market offers a diverse range of lengths to meet the varied preferences and style choices of consumers. Whether one is seeking a classic, versatile 18-inch, or a bold and dramatic 24-inch chain, or even a trendy and edgy choker length, there is a gold chain length available to suit every individual's taste and fashion sense.